Best Paver Sealer 2020-2023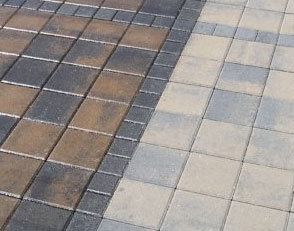 What is the best paver sealer to use?
Time to apply a new Brick Paver Sealer. This article is our top most asked question.
Brick Paver Patios and landscaping blocks have become increasingly popular in the last 10-20 years. They offer an alternative to regular plain white concrete by adding old world charm which resembles walkways and streets of the 19th century. Brick Paver patios can be customized to be designed for any area. They are very popular for driveways, walkways, around pools, etc. Of course, with any exterior horizontal surface, there is a need for general maintenance with brick pavers by cleaning and sealing on a regular basis. Brick paver sealers are water repellents and coatings that are specifically designed to be used on paver stones and block.
Paver sealers have 3 main functions:
Seal and protect the pavers from UV degradation and fading.
Enhance the pavers by adding a wet look shine.
Solidify or stabilizing the jointing sand in between the individual stones
Solvent Based Paver Sealers (The Best)
Traditionally, these are the most popular and have been around for the longest time. These paver sealers are typically high in acrylic solids and will darken the surface. Available in High Gloss shine and is also VOC compliant.
Crystal clear in liquid form. Popular solvents are Xylene, Toluene, and other Aromatic Solvents.
Pros: Last about 3-5 years. Darken the color more so than any water based sealers out there. Add a higher level of gloss if desired. Typically only one coat is needed. A higher level of protection against UV degradation and fading. Better for vehicle traffic.
Cons: Needs to be rolled on and cannot be sprayed on so a little more work is required. Square footage coverage is less, typically about 100-125 sq. feet per gallon.
Water Based Paver Sealers
Water-based versions of paver sealers still contain acrylics but will have a lower solid content.
Milky white in liquid form that dries clear.
Pros: Easily applied with a garden type pump sprayer. Will penetrate better into the substrate and sand joints. Square footage is better than solvent-based sealers. Typically 150-200 sq. feet per gallon.
Cons: Multiple coats are needed. Will not darken as deeply or leave a high gloss like a solvent based paver sealer. A Low level of protection from UV degradation and fading. Softer acrylics can be prone to tire marks on a hot day. Have to apply every year.
Gloss Paver Sealers
Gloss sealers will add a shine to the surface ranging from matte to high gloss. In most scenarios, you will also darken the pavers with a wet look. These sealers are the best.
Hopefully, you now have a better understanding of the different types of paver sealers that are available.